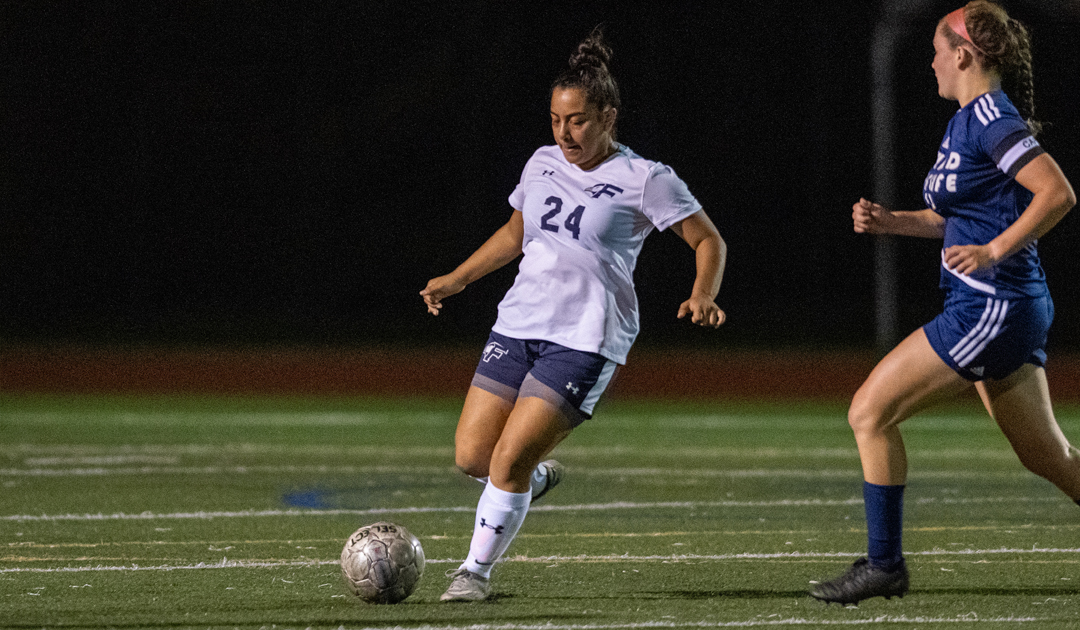 Longmeadow, MA- The Women's Soccer team headed to Western Massachusetts for a make-up with the Bay Path Wildcats on Thursday afternoon with hopes of leaving with a W. The Lady Wildcats had other plans as they controlled much of the contest and came away with an 8-0 victory over the Falcons. The loss drops the Falcons to a 1-7-1 record overall while the Wildcats improve to 6-1.
Bay Path gained possession right from the start tallying five shots in the first 15 minutes of play. The Falcons continued their smart play defensively though, forcing five offside calls over the same stretch. At the 15:37 mark though, BPU found a way to beat Falcons keeper Olivia Handy (La Verne, CA) as Jennifer Feliciano took a pass from Jennifer Wilson to earn a 1-0 lead. Fisher's Meghan Menzel (Big Rock, IL) had her first shot of the contest just a minute later trying to tie it right back up but it sailed high and the score remained 1-0. The Wildcats kept the pressure on, scoring three more goals in the first half, including Feliciano's second goal of the game, to take a 4-0 lead into the break.
BPU wasted no time out of the half, scoring twice within a minute of each other in the 48th minute and then again once more in the 51st minute to take a 7-0 lead. Fisher did not give up their fight though, as they fired six shots over the second half, including a blast from Carla DaSilva (Somerville, MA) that hit the crossbar keeping the Falcons off the score sheet. The Wildcats added one more just seconds before the whistle and would go on to win 8-0.
Menzel led the way offensively for her team creating five shots (two on goal), while Handy did all she could to keep her team in it, facing 23 shots and coming up with 15 saves in the losing effort. Feliciano finished the game with an impressive four goals while BPU's keeper Caitlyn Esposito earned the shutout, making four saves in the victory.
The Falcons are off for the weekend which will give them time to rest up for the AII showdown when the Washington Adventist Shock (2-5) comes to town. The soccer doubleheader is set to kick off on Monday with the women starting at 4pm with the men to follow at 6pm.